Tread Connection is the leading mobile wheel and tire service provider! We offer a full range of mobile tire and wheel services to vehicle owners. All services are performed by TIA trained, highly qualified technicians, equipped with the most advanced tire changing and balancing technology.
Tread Connection was founded in 2016 in Charlotte, NC by brothers Paul and Alex Hosage. Prior to forming Tread Connection, Paul worked in the automotive industry and held a variety of positions in the traditional automotive repair shop from tire technician to area manager of one of the largest independent, nationally known tire franchises.
After experiencing the many negatives associated with traditional brick and mortar retail tire stores, Paul and Alex developed the mobile tire installation platform that will change the way customers think about the tire buying process.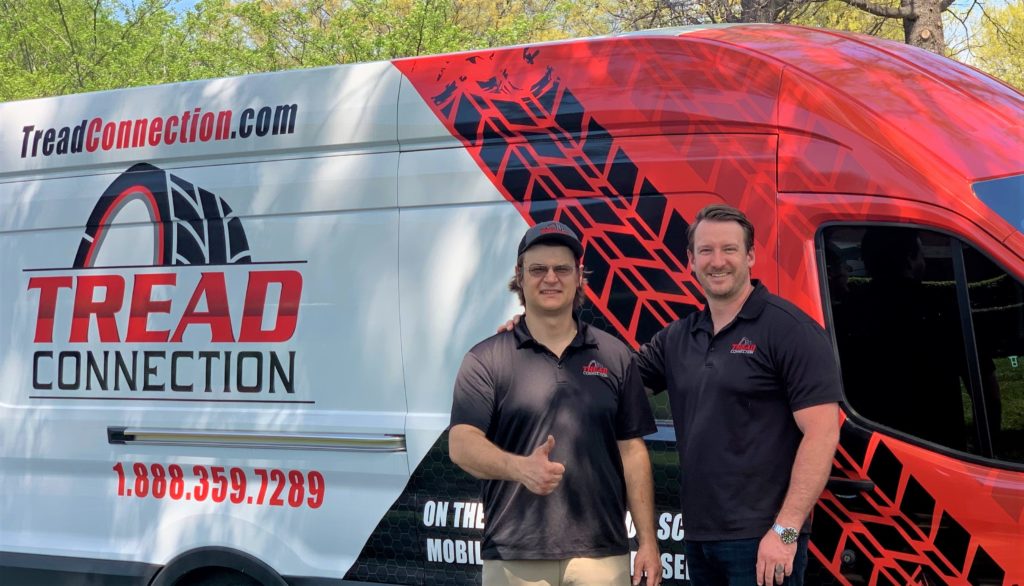 Changing the Way You Buy Tires.
We bring the tire shop to you.  Why waste valuable time waiting for hours in a brick-and-mortar tire shop?  Our intuitive, user friendly tire selector allows you to research and compare tire options on the fly, then complete the transaction and schedule a time for our Mobile Workstation to come to you.
All services are performed by TIA certified technicians, with industry leading equipment designed to provide accurate mounting and balancing without damaging your wheel or tire.   We offer a wide range of complimentary services, including Flat Tire Repair, TPMS replacement and repair, and even off-road and motorsport tires.
Own a Tread Connection Franchise.
Now is your chance. Join our rapidly growing franchise owner base as they continuously work to deliver "on the go, and on your schedule" service to every client, every day. This is the opportunity you've been waiting for! Own your own business and be your own boss.
The Guy working on installing the tires was very friendly and took his time to work on our Company Vehicle, I'd rather someone take their time to do things right than to rush. He was also very patient when I was trying to decide how to cover the payment. I would recommend them to anyone and use them again. I think its cool they come to you!

Service BAV


A+ Customer Service. I wanted to powder coat my wheels that were looking a little worn being 11 years old. They picked them up and got them completely refreshed and powder coated to look better that new. Picked up when they said they would and brought back when they said they would. Super convenient for a busy life! Thank you so much for taking care of of me and Emma.

Norman Latva


Love this place. Not only was the cost competitive with online but the convenience is outstanding. Very responsive and they call back when they say they're going to. Super easy to work with and they have the best mounting/balancing gear available. Highly recommend to anyone for their tire needs from a 16 year old's first car to something high end. The team (Henry and Paul) are car guys so they appreciated that I love this car more than I did my ex wife.

The Stig