Find Flat Tire Repair at Your Home or Office

Tread Connection is your trusted mobile tire repair service when and where you need it. There is never a good time to need flat tire repair. It doesn't matter if it happens in your driveway before your morning commute or if you discover it when leaving the office. A flat tire is always a hassle and an inconvenience. Thankfully, help is never far away with mobile tire repair from Tread Connection!
Tread Connection brings the tire shop to you. Our wide range of available tires means you're sure to find the perfect set of tires to fit your budget. Learn how Tread Connection can bring quality, convenient flat tire repair right to your door, on your schedule.
Kiss the Waiting Room Goodbye!
As if having a flat tire wasn't bad enough, finding flat tire repair often means spending hours in a crowded, dirty waiting room with bad coffee while you get it fixed. This is precious time from your day that could be spent working or with your family.
What's more, health concerns have made sitting in a waiting room even worse. The idea of sitting in a cramped, enclosed space with a bunch of strangers has never been more uncomfortable. But what if there was another way? Now, you can have your tires changed and get flat repair at your home or office.
Mobile Tire Repair Brings the Tire Shop to You!
Mobile tire repair is more than convenient. It's a safer, faster, and more secure way to take care of your tires on your schedule! Finding flat tire repair near you has never been easier. You can have your tire repaired or have new tires delivered to your door in three easy steps!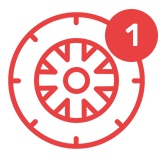 Find the Tires That Match Your Needs
Shop by vehicle, tire size, or brand. Specials and discounts for your location appear automatically.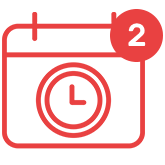 Book Installation Appointment
Confirm your selections and schedule an appointment for when it's most convenient for you.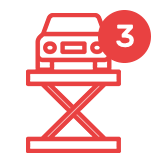 Tires Delivered and Installed: Rain or Shine!
It really is that easy! Our installers will bring your tires to you, and install them on your vehicle.
Tread Connection does much more than let you buy your tires online. Our team of TIA-certified tire technicians delivers tires to your home and installs your new tires or repairs your flat. We are also happy to meet you at your business or anywhere else you need us. Just make sure your vehicle is in a safe place like a parking lot to ensure our van has ample room to work.
Can I Repair My Flat or Do I Need a New Tire?
We know money can be tight. If you just got new tires or haven't been driving on your tires for very long, you may wonder if you can repair your tire instead of buying a new one. The TIA-certified tire experts at Tread Connection can help.
Our friendly team of tire professionals will let you know if your tire can still be saved. Your technician will remove the tire and inspect it both inside and out.
If your flat tire can be patched and will be safe to drive, then we will handle your flat tire repair for you at your home or office.
Don't worry if you have a flat that cannot be repaired. We have a wide range of tires for all kinds of makes and models of cars from the best and most trusted manufacturers. You can be sure you'll find the right tire for your car at a value that works for you. Get in touch with Tread Connection, and let us take a look.
What Can I Expect From My Mobile Tire Repair?
When you reach out to the tire experts at Tread Connection, our team will provide you with a comprehensive tire inspection and handle everything from repair to remounting. Our mobile tire repair services include the following:
Tire Removal
Comprehensive Tire and Wheel Inspection
Repair Tire or Recommendation to Replace the Tire
Relearn TPMS Sensors
Check Your Spare
Contact Tread Connection for Mobile Tire Repair Near You Today!
Don't waste another day in a waiting room. Find flat tire repair that works on your schedule. Contact the certified tire experts at Tread Connection to schedule your appointment today.